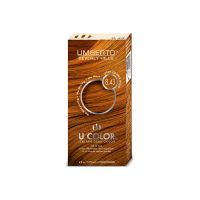 This is so Easy

I won this product from Beauty Undercover. It is comprised of 3 sachet packets joined together containing color, developer and equalizer. It also contains a brush and latex gloves. It can be applied 3 ways: bowl and brush; applicator bottle; directly from the sachets. I opted for the latter. I folded the sachets according to the directions, cut the tops all at once, and applied it to dry hai...read morer. You end up applying all 3 at once. It is a low ammonia formula, so it does not smell. The application was so easy. No mixing with option 3. It was not runny and easy to use. The color is fantastic! I chose Pearl Blonde in a demi-permanent. The color toned down my blonde hair that was starting to look a little brassy. It covered gray, and I am very pleased with this product. I will definitely buy it. It is available on-line (TB won't let me mention the site, but it is a popular site for everything especially books and Kindle) for $14.99. What a great prize.

No More Salon Color

I have dry, fairly delicate hair, so I try not to use permanent hair colors. This one caught my eye today at Ulta, so I decided to give it a try. I have been wanting to go darker(my hair is medium brown) for awhile, but box colors for dark brown often come out closer to black. I got home and did a strand test first. Everything seemed okay, so I went ahead and applied it. I loved not having to pre...read morep my hair beforehand, as well as the "smoosh" method advertised by the box. Squeezing the three tubes together directly onto my hair was much cleaner and easier than the traditional bottle method. I also liked that the kit had two sets of packets-- I have super thick hair and one set was enough, so I'll get two colorings for the price of one. After 25 minutes to process, I washed with the included shampoo and conditioner, then flatironed using my normal products. I was a little nervous at first, but once I was done, I was in LOVE. The color is SO rich-- on par with salon color, and the shine is amazing. I cannot believe that I got these kind of results with a box color. The color dimension is truly incredible, and the color was deep, but not too dark. I highly recommend this for anyone looking for a non-permanent change at a very affordable price.

Epic, Lasting Demi Color with Grey Coverage!

This stuff completely changed my opinion about box color. It's easy to use, I use the included brush after mixing the color, developer and activator in a bowl; the included goves are good sized and strong (not black plastic), and easily last for two treatments; the color is dense, rich and appears multi-dimensional; the complementary shampoo and daily conditioner did not impress me, BUT the U Rene...read morew deep, restoring mask, used post-color, multiplied shine and left me completely powerless to resist running my hands through my hair for four straight days. Notably, my dark chestnut brown #4.35, and the darker colors use a 7% developer, and lightest shades use 10%, a boost in the battle to maintain healthy colored hair with a bonus of great grey coverage, it's a deal: $12 for TWO color applications. I'm shocked it's not spoken about more or marketed better. This stuff is uh-ma-zing! Get it from Ulta or Target online.