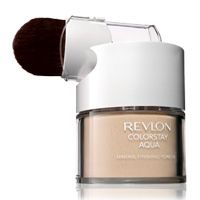 A Different Kind of Mineral Powder

I received this as a perk for the month of beauty. It comes with a built in brush that slides open. Very efficient. When I first used the powder, the product felt wet, and I thought the brush was wet, but it wasn't. This a very cooling powder as a result. I can't help but think this is a good feature because it adds moisture. It imparts a matte finish; so there is no shine. I put it on over...read more my foundation, and it gave my skin a nice even appearance. I apply a little of the powder to the brush and tap it on my face. I found that it lightens and slightly fills in wrinkles. It is very light, so I don't feel like I have a lot of product on my face. At first I had to get used to the "wet" feeling, but I adapted to it quickly. I have used Bare Minerals, and this is far superior to that brand. I also tried Too Faced Primed and Poreless...don't waste your money on that one...it does absolutely nothing! I recommend this Revlon finishing powder.

Review subject

Liked the cooling effect, but didn't really notice a positive result.

somewhat impressive

I like the matte finish this powder gave me, especially the wet, cooling sensation it gave my face. Although it does make my face a bit oily, I think it's a great powder.

Back
to top