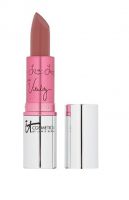 Treat Your Lips to Nurturing Color!

I admitted in an earlier blog that I am totally hooked on Tangee's "Color-Changing Lipstick" (a classic, available online from The Vermont Country Store). The silky-smooth formula protects my lips from hot and cold weather, provides a most becoming shade on my pout, often lasting longer than I do! There's a new and noteworthy product in town: It Cosmetics' "Vitality Flush 4-in-1 Anti-Aging Lip S...read moretain." It is available in four hues, including my favorites: "Pretty Woman," a lovely, burnished pink and "Love Story," a soft, true rose. Also noteworthy is "Je Ne Sais Quoi," which provides just a hint of a very natural long-lasting tint. This gem won awards from "Total Beauty," "Daily Glow," and "Beauty Entertainment." Plum. Sunflower, and Cherry Oils, Shea Butter, and Jojoba hydrate and condition for hours; these are combined with the anti-oxidants Green Tea, White Tea, and Vitamins A, C, and E. Hyaluronic Acid, currently all-the-rage in moisurizing, is included to keep your lips buttery soft and glossy. How can you resist a stain which enhances and nourishes? You can't! The $20.00 price tag is reasonable for the compliments you will receive from wearing this.

Have no idea why everyone loves this....

This lipstick claims to be super moisturizing which it is not and it does not last long. All the colors gives the same fuchsia stain on the lips which I do not appreciate because sometimes I want a little variety and what you see is what you get. I got this in the color Damsel and I was hoping it would stain my lips like what the color is shown which is a pretty light brown nude color. I do like t...read morehat after the slick feeling fades, my lips are not desert dry and cracked. It still has a little bit of moisture but not by much so I will have to reapply constantly. I like that there's no heavy scent to this. It smells kind of waxy with a subtle sweet scent. This lipstick stain is really sheer so there's really no point of building this up and it seems to me like it doesn't even matter which of the six colors you get because you will still get the same color and stain on your lips. Highly disappointed.

It Lipsticks

While I love the moisture these have, all the colors that I have ever tried, turn a bright horrible fushia pink on me.

Back
to top