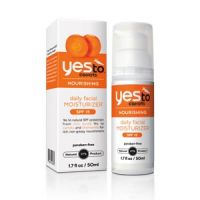 no to soothing combo skin =(

i'd been searching for a new summer (as in light) moisturizer - preferably with some spf protection - and so after a co-worker raved about the yes to carrots products, i picked this up at walgreen's. it's described as "soothing and hydrating", but alas, my face was left with parched and patchy cheeks. i have combo skin - shiny t-zone, drier cheeks. this moisturizer had a nice consistency - not too...read more thick, not too thin - but it felt greasy going on. sure enough, my forehead and nose soon looked like an oil slick - yuck! so while this moisturizer supposedly "defends your skin against the sun's UVA/UVB rays" (probably minimally, since it's only spf 15), i can't agree that it's "Perfect for Spring, perfect for Summer. Actually, perfect all year-round." Actually...not perfect at all, at least for me. Pretty pricey ($15) for a drugstore brand too. Sadly sitting unused in my medicine cabinet...

Awful for eczema

I have severely dry skin on my face as I suffer from eczema. I had been using the tomato version of this product before the winter came and I loved it, it was absolutely perfect for me I would recommend that to anyone with normal or acne prone skin. So when my eczema flared up I decided to give this product a try. I thought, why not, the tomato worked so well this one has to as well right. Wrong. ...read moreIf you have eczema on your face DO NOT USE THIS. It will burn the heck out of your skin and make your eczema worse. I would try and use it as a day moisturizer and it did nothing to provide me moisture at all. Twenty minutes after putting this product on my skin my face was red, angry, and even drier than before. I gave it two stars because I'm sure it works nicely for people without eczema but I just could not stand it! It quickly went back to target.

Perfect Amount of Moisture!

This is my go-to summer moisturizer! It is lightweight, has safe sunscreen ingredients (which is quite important to me) and I love pumps!!! Having a pump ensures that bacteria or dirt cannot get back into the unused portion of lotion. I also like that it travels well as a pump, its lightweight packaging and I can control the amount of product I use (1 pump). I tend to use this under a foundation after letting my skin absorb the lotion for 5 minutes or so.

Back
to top