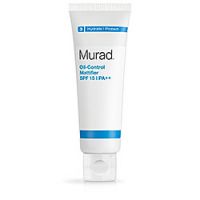 Meh

This is decent for controlling oil, but I hate the way it feels on my face. It's like glue. I feel worse with this on than without it. There are MANY other moisturizers with sun protection that are much better. Thank goodness I got a free deluxe sample.

Did not agree with my skin.

I tend to get shiny during the day and Murad is a well-known brand so I had pretty high hopes for this product. Unfortunately, it let me down. It is a very thick product, which put me off right away, but then I remembered it's supposed to control oil AND it has SPF, so I accepted how thick and sticky it was. I was surprised to find it soaked into my skin nicely, in spite of the unpleasant texture....read more It seemed to work ok under my powder foundation, but I wasn't very far into the day before I noticed my face was shiny already. That would be "already" as in much earlier than with my usual primer or sometimes even when I skip primer. But the final nail in the coffin for this one was when I got home and took a closer look and discovered the product was making my skin break out. This doesn't happen super often to me anymore (thankfully). I would definitely not recommend this product to anyone with sensitive skin and I definitely will not be purchasing it for myself. There are better ways to control oil and protect my skin from the sun!

Exclusively from the editors at Total Beauty

Get the Buying Guide to see these top-rated products!

Get it now »

Works really well!

While I agree with another reviewer that it is very glue-like going on, it absorbs into my skin and then I don't know I'm wearing it. It is a fantastic product, and it does help control my shine all day long. Using it with a primer is an interesting idea that I'm going to have to try. I usually use it alone, and it lasts fairly well. I tend to get a little splotchy on my cheeks during the day. I w...read moreould buy this product again. And the SPF is great. It seems like these days the more you pile on your face the better.

Back
to top