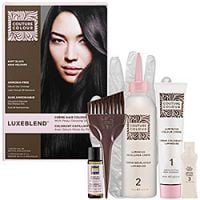 Couture Colour Luxeblend Creme Hair Colour With Pequi Glossing Serum
As low as
Medium brown is way too dark

This product is expensive, even though it comes with a mini pequi oil serum that is worth 32 dollars. I bought weeks ago during black friday a box of this hair color in medium brown. I did my homework and read the reviews online that the dark brown hair color will turn your hair black, and I read that the medium brown color will give you a very dark brown close to black color at first. I decided t...read moreo take a chance with the medium brown color because it would turn dark brown at its darkest which I did not care because that is a beautiful hair color and it is my natural hair color. The reason I bought this hair color box is because my stylist highlighted my hair early fall in a light brown color that eventually after months looked kind of reddish, somewhat like henna. Although the result was beautiful, I wanted richer and darker hair color again. I read on the medium brown box that it neutralizes red like tones, and that is would get rid of the red tones from my hair and give it a true dark brown rich color. I used the color in my hair for 25 minutes and they provide you a little pequi oil glossing serum to mix with the hair dye. Not to my surprise, after washing and drying my hair, my hair turned out black. I called the place I bought the product from and they gave me a credit because they knew customers were calling in complaining about the misrepresentation of this product. My hair came out black for a week even though I used suave clarifying shampoo to get rid of the black tones in my hair. After two weeks, my hair color is now a beautiful dark brown without any red tones. So the product for this particular medium brown color will get rid of red tones already in hair in the sense it is true to their claim, but on the other hand, you have to get out of your way to use extra hair products that will get rid of the heavily pigmented color. I am happy with my current hair color but it took time to get there.

Couture Colour

This product is decent, but the customer service at the company is horrible- the worst I've encountered in my years of internet shopping. All phone calls get dropped into the mailbox of someone named Tracy Rinehart, and then go unanswered. All emails go unanswered. I had a problem with an order placed 3 months ago, and it is still unresolved.