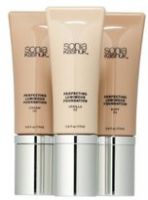 Nice foundation!

I purchased this in the color "Cream" which is an exact match for me. My skin is combo/dry in the Winter so I wanted to purchase a foundation that had a bit more moisture in it for the seasonal months. I have also been using Clinique's Perfectly Real for the season also, and they are similar IMO but this one is much more budget friendly at about half the cost, so that is a good thing! I was origin...read moreally going to give this foundation a 7 but changed my mind; anytime you buy foundation that states "luminous" you know you are getting a more moisturizing formula so when my t-zone is oily at around 5 hours later, which still isn't bad, I really should expect it. If you have oilier skin, definitely use a setting powder with it and carry some blotting sheets as you won't get any oil control with this foundation. I would also suggest using a trusted oil control powder and just lightly brushing over the t-zone area after application and you should be fine. I love the "skin-like" appearance and the coverage can go from very sheer (with a damp beauty blender) to light (with fingers) to medium (with a dry flat top kabuki brush). This makes it incredibly versatile; I have even started wearing it on my "no make-up days!" and no one knows. I am not crazy about the packaging, but I am seeing more and more foundations as of late that have a pump but are shaped like a squeeze tube. I would actually prefer just a standard pump or a standard squeeze tube, and what is a bit frustrating about this packaging is that even though it is shaped like a squeeze tube, the plastic is hard and can't be squeezed; it's like they couldn't decide which packaging style to go with so they picked both. I am very picky about packaging, but don't let that deter you; this is a really good option for people with normal to dry skin (if skin is really dry, you may need to experiment with a good primer or serum underneath), or combo skin with a really good setting powder. If you have oily skin, you may see a "breakdown" of the product in the T-Zone area and particularly around the nose.

Good for oily skin

For my skin type, this works pretty well. It's not too heavy and it gives the right amount of coverage for me. If you're looking for something heavier, don't use this.

Really liked this

I actually really liked this foundation. While it does have a pretty light coverage it covers up we'll for me. It has a sheer finish to it which I personally like because it gives me a dewy finish. It's so natural and looks and feels like your not wearing anything. Plus this matched my skin tone perfectley. In love with this foundation.