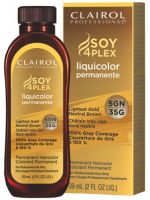 Clairol Professional Liquicolor Permanente
As low as
Does cover Grey Hair

I bought the Gray Busters NN Medium Rich Blonde to cover my 25% grey hair and maintain my natural hair color as much as possible. This product worked - it covered my grey hair and was a great color for me. My hair was nice and soft. However, it lasted for about 2 months. This is how long other brands last. I will definitely buy again.

ok product

I think its too smelling. And the high lift blondes are very stinky and gives me very watery eyes. The smell of these hair color are very strong.