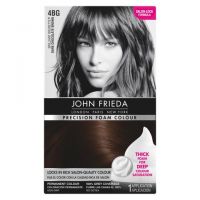 Not bad!

In the past I usually have had problem with boxed-hair color because it fried my hair or washed out quickly (even after claiming to be PERMANENT color). My normal hair almost jet black with a hint of dark, dark brown (like in my picture). I used this because I wanted something different. I didn't want to do anything to dramatic, but I wanted a little lightening and warmth in my hair so I opted to ...read moretry the Dark Chocolate Brown. The instructions are easy to read and easy to follow. I do like the concept of foam color because it did seem much easier to apply than the standard squeeze bottle that comes in hair color boxes. My biggest strife was that it took ages to rinse out, even longer than other coloring products. Because my hair is so dark, there wasn't much of a difference in color (very very little lightening from black to the darkest brown), and without the use of a porosity neutralizer (pre color treatment that uses proteins to fill spaces in your hair to give you a more even color), my roots were lighter to the chocolate brown I wanted, but my ends were almost black. In bright light, I could see the golden chocolate shine radiate off my hair, but in normal or low light it is undetectable. Because my hair was naturally dark and I did not pre-lighten it, this had more of a glazing effect than a color effect. For people with lighter hair, you will see better results. As far as coverage goes, this definitely covers better than regular drug store color and you won't be left with patches (as claimed on the box) unless you are seriously wreckless. My hair is a little longer than shoulder length now, but there was adequate product to over saturate my hair like in the instructions. For people with much longer hair (like stomach-length or longer), I would highly suggest buying two boxes if you insist on using this product.

Didn't work for me...

I was really excited to try this hair color on my teenage daughter's hair because the foam was supposed to be easier to apply. After coloring her hair with the standard type of color for over a year myself, I know to make sure to get 2 boxes in case we run out. With this, I purchased 1 box. I found the whole foam thing a little complicated and it was not easy for me to apply. I definitely did ...read morenot get an even distribution with the foam. I usually agree with masses on products, but not this one. Maybe it takes practice but that is difficult to do with hair dye.

Review: John Frieda Precision Foam Colour

I love this! It really feels nice on my hair and it dyes hair evenly.