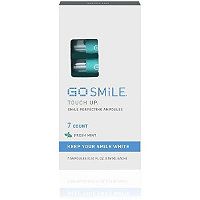 GoSMILE Touch Up- 7 Count
As low as
Not sure what to think!

I don't drink coffee or red wine, so I never had a problem with staining. These are a pain to learn how to break them open and it takes a while for the liquid to flow into the applicator. It's a bit arduous to rub it on all your teeth. I think it does a decent job at removing and residue or film on your teeth. I just don't have the chance to test out on heavier staining food & drinks. They are the...read more most convenient thing to carry, even smaller than other dental mini's. These are extremely expensive, even for a few sticks.

Great for a quick touch up

Very happy with this product. I recieved it on the day of a dentist appointment, so I decided to use it before going in, rather than my usual quick brush. I saw some reviews that said they couldn't work out how to use the product as there were no instructions, but this has been corrected and there are now instructions on the box. They made my teeth look and feel clean and whitened well. I will rep...read moreurchase. One small downside is that it can be a little hard to get all of the product out, but otherwise very good.

How about CONVENIENCE

I love these little ampoules, they are great for your handbag! The flashlites taste wonderful too. I highly recommend this product. As for the whitening claims, you would really have to be diligent about using this product. I use it more for the breath freshening aspect.

Back
to top