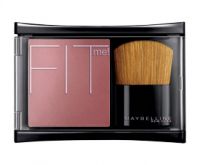 Not my favorte

I have one of these blushes. I find it to be natural looking, but not overly pigmented. There isn't really anything special about this blush that would make me want to spend the money on another. It's a decent blush, looks nice, wears ok, but there just isn't anything special about it. Not something I would repurchase. It does have a more matte finish for those who like to steer clear of shine.

Natural and User Friendly

I was mainly looking for a natural looking blush and this is the perfect fit (hahhaha) for me. The color is definitely build-able so there is no limit for application. I do not, however, use the small application brush that it comes with because I have my own brushes and i prefer the larger, fluffy brushes. I have noticed that I will leave a slight shimmer, which I am no a fan of because I go for ...read morea natural look and glitter does not correlate with that. Overall, good for drugstore and good for everyday wear.

Run of a Mill Blush

I bought this on clearance in the medium pink. I like having some type of color on my face and I really liked how the brush looked in the package. I was a little bit disappointed. The powder didn't exactly look natural on my skin and the brush was pretty rough. I used my Sephora Powder brush instead and still didn't like the consistency o this blush. But for the price, its decent.

Back
to top