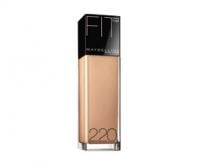 Didn't quite FIT ME!

The positives: I was able to get samples from walmart of all of the FIT ME! foundation shades before purchasing. There a lot of shades from very light to medium to deep. The first shade I tried (120) for my medium-light, sensitive combination skin was a perfect match inside at in daylight, but the next shade lighter and darker were acceptably good too. It blended easily to matte finish. The ...read moreThere was no detectable fragrance, irritation, or acne breakout from this foundation. It is very affordable. What I was not thrilled about was that it was so sheer, it really did not cover at all. It did not even my coloring or conceal small lines or pores even when layered on. The other disappointment was that the color turned a bit peachy or orangey on me after a few hours--strange--never had that happen before. This was okay, but not the best--even at this price point.

surprisingly good

I had no intention of buying this foundation, but I'm glad that I did. It has a very good coverage for a foundation that's supposed to be "natural". It feels good on skin, and it doesn't have a weird smell. the color matches perfectly also. The only complaint is that it doesn't last all day.

Dumb

this feels like sticky crap. I've bought like 3 to see if it was just a bad batch, but no. It's just sticky crap that rubs off with a slight tap of the finger. It's a waste of $. Not worth the price, go buy Revlon Colorstay. Too light, not worthy of being called foundation. Craaaaap.