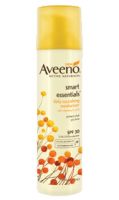 Good Sunscreen/Terrible Moisturizer

The Aveeno Smart Essentials Daily Nourishing Moisturizer with SPF 30 did not work for me as a moisturizer at all. This product has the consistency of a sunscreen. It is white, smells like sunscreen, and there are no moisturizing qualities at all. I had received this as a sample and had high hopes for it and it completely let me down. The Neutrogena Dry Touch sunscreen works better for the face...read more or you could use this for your sunscreen. I agree with the other member that I will finish this up by putting it on my hands as a sunscreen. If you are looking for moisture, no matter what your skin type is, don't waste your money on this!

Awesome moisturizer.

This is the first Aveeno moisturizer i've tried, and I love it. I love the fresh smell, and the light texture it has on my skin. I find it really moisturizing, even in the dry winter months. It also noticeably wakes up your face. After I put it on I feel like i don't even need makeup because it makes me look so radiant and awesome! I LOVE IT.

Loves it!

Im on my second bottle of this and i will never use another brand of moisturizer. I would be upset if they ever stop making it. The price sucks but its well worth it. My face feels silky n usually i breakout when my face hasnt been properly moisturized. My face has never felt so nourished n alive!!

Back
to top