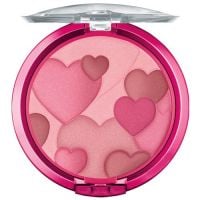 Hard Not to Smile When Using This

The gorgeous hearts of color mingle together to give you a perfect, natural flush--like you've just realized you've fallen in love or taken a walk on a cool spring day, inhaling the blossoms! The formula won't cause blemishes or problems. It just will make you look like you--but lovelier! I can't use this without smiling. The wear is wonderful, and I put it through long hours in hot, humid conditions.

Great product

I love this, I use it when I'm needing a pick me up. I think it lives up to it's claims, and the length of wear is all day (for me) It was around $10.00, but I have found that to be average for glow/blush.

Love the color

This blush gives me such a great rosy, glow! I love it. Its easy to use, and goes on smoothly without flaking everywhere. I really love the rosy color it gave my cheeks. I would highly recommend this blush!

Back
to top