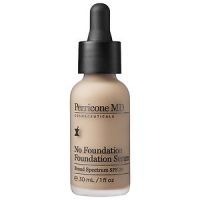 Great 3 in 1 Product

Dr. Perricone's No Foundation, Foundation with SPF 30 is a very good product that also includes skincare. I like to use this in the summer when I don't want much on my skin. The only downfall is it can be bit sticky if you don't blend it well enough and don't use too much! Start light and build your coverage. This does work on most skin tones.

No Foundation is simply a huge NO!

I like the idea of this product, but I was absolutely horrified when I saw how dark it is right out of the bottle. For extremely fair-skinned women, this is not the product you want on your face. You will absolutely look like you're wearing a mask. Thankfully, I got this in a Perricone MD trial kit with several other products (The Face Finishing Moisturizer is AMAZING!), otherwise I wouldn't have ...read morekept it. I tried it on the back of my hand and it was still about 20 shades too dark. Even just a tiny amount would have been a disaster on my face. Had to take a huge pass on this product. If you're thinking about trying it, don't believe the "one color suits all" nonsense for a single second because I assure you, that is not the truth. .

Virtually no coverage.

The good thing about this product is its high SPF. It's basically a tinted moisturizer with no coverage. I used it for a while, until I decided that I wanted a more polished look (i.e. more coverage). I'm light, but not fair, with neutral undertones and this is slightly too dark for me. But it did give me some sheer color and consequently was better for the summer months. My skin is sensitiv...read moree and this caused no reaction. It has a slight fragrance, but it dissipates quickly. If you are looking for a tinted moisturizer with virtually no coverage, then look no further. Frankly, I wasn't impressed with this product and I have no earthly idea why I went through three bottles of the stuff, lol!