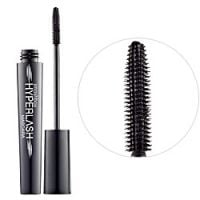 Wet, goopy, yuck

I purchased this based on the reviews here and I am very disappointed. The formula is wet and goopy. The mascara in my opinion is basically unwearable.

Love it!!

I used the inimitable intense mascara by Chanel and I LOVED it. But it was $30 a tube and only lasted me a month. I just couldn't keep buying it. This does virtually the same thing- thickness after only one cost, perfect after two coats

Love!

This is my current favorite mascara. If you like natural, low key lashes it's probably not ideal for you. I like dramatic, va-va-voom lashes personally. The first day I wore it, one of my friends asked if I had gotten eyelash extensions! It goes on well and makes my lashes look longer, thicker, and darker in the first coat. Second coat: whoa. The brush is great and makes my lashes look very ...read morewell defined. I have not had a single clump yet. If you want even more definition, there is a comb built in on one side of the brush. I apply my second coat while sort of spinning the brush so my lashes get combed as well. I wear contacts and I have a heck of a time with some mascaras but I haven't had any issues with flaking with this one. It is a little bit difficult to remove, but a good eye makeup remover takes care of it without too much effort.

Back
to top