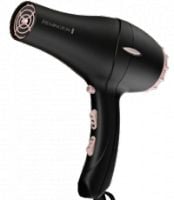 Remington Worst Quality Hair Dryer

I'm originally from the US and have never had a hair dryer break on me. Moved to Australia and tried a Remington. It broke within 6 months for no reason. I quite liked the design and all, so I decided it was a fluke and bought another of the same one. It broke within 3 months. Never again will I purchase a Remington!!! Customer service is not helpful and what woman can afford to have her hair dryer break every 3 months.

The Best Affordable Hair Dryer

I have bought a lot of hair dryers in my life. I must admit that they were all on the inexpensive side (under $50) I used to wonder what it would be like to have one of those $200 dryers, but I can't imagine that they are better than this one. I have very long wavy hair and I am done in 10 minutes even when it's soaking wet. I was lucky enough to win this from Remington, but I would have gladly paid for it. It is a bit heavier than what I was using, but worth it.

loveeee it

USED MANY BLOW DRYERS IN MY LIFETIME AND THIS ONE IS BY FAR THE BEST. LOVE HOW IT LEAVES MY HAIR SO SLICK AND WITH SO MUCH VOLUME. MY BOYFRIENDS MOM LIVES WITH US AND SHE ALWAYS USES MINE EVEN THO SHE HAS HER OWN BATHROOM AND HER OWN BLOW DRYER. I DON MIND THAT SHE USES IT, BUT IM GONNA BUY HER ONE FOR CHRISTMAS.

Back
to top