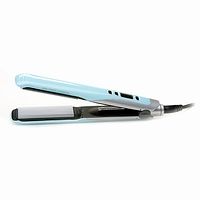 It works ! Even for me!

I have long curly hair i have never really bothered trying to wear it straight because it never lasted. many great features, Temp control, auto shut off after 1 hr, temp control lock.. took me a bit to figure it out. comfortable in your hand, IT works! nice long cord, Good size. This IS Inexpensive but i would not call it cheap. When used on hair that is 100% dry it leaves hair soft shiny and ...read morewithout the burnt smell i have had with other flat irons. When i use this it lasts if you are someone who does not wash your hair everyday it will stay straight for a few days even on my very curly coarse hair. I am going to buy and extra and store it as a back up or leave one at work

Great for the price but thin hair girls beware.

A great product for a really great price. I was looking for hot rollers and found that Walmart had a bundle for 30 dollars which came with hot rollers, a blow dryer, and this flat iron! I was surprised the straightener worked as well as it did for the price. My hair is slightly curly but extremely frizzy and this straightener smooths everything out leaving my hair bouncy, shiny, and very straight ...read morewithout having to go through each strand multiple times. I will say though that the straightener does get EXTREMELY hot and can cause a lot of heat damage if not used at a low setting with a quality heat protector. If you have thinner hair, this product may be a little much because even at the lowest setting, the straightener is scorching hot.

LOVE this :)

I love this flatiron! It makes my normally wavy hair shiny and straight and frizz-free. You can control how hot the iron gets too, which is always a plus.