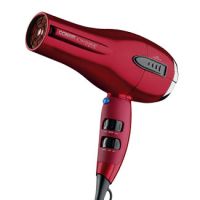 Conair

Sleek design, pretty color, but I didn't think it was worth the hefty price tag. It was no better than an average, cheaper dryer.

I CAN HEAR!!

This is not as loud as other dryers, it takes less time to blow dry my THICK hair. I like the Ions on/off buttone for shine, and the cool shot is great. The on/off and temp switches are in a weird place but thats ok.

Worked Great...While It Lasted.

After my Videl Sassoon dryer died, my friend gave me this blow dryer as a gift. At first I was a little skeptic, for having worked in a beauty supply store I was always instructed to purchase "high quality," AKA more expensive, "professional" dryers because apparently they work better and last longer. My Videl as well as this Conaire model seemed to prove that theory correct....read more The dryer is very powerful, which may be a negative for those with dry or thin hair. Personally, the power this dryer generates tested to be a major flaw in its performance. After using it only few times and for approximately 20 minutes each time and storing it in a non-humid environment (humidity erodes the mechanics in heat-styling tools) , the dryer overheated and gave off a horrific burning stench. Now I understand why specialists agree professional dryers are well worth the expense. I looked up reviews for this dryer and all users seem to give positive feedback and don't mention overheating. I'm guessing I had a defective model or the previous owner didn't handle it correctly. But while the dryer lasted it did work very well. I have long, wavy colored hair that's very prone to heat damage, but I found that this Conaire model worked styling wonders while not stressing my locks. The ceramic, ionic, or both iconic and ceramic switch is a fantastic utility that gives the user the choice of how they want the heat to manipulate their hair. (Ionic=less frizz, smooths hair shafts, lessens static/ ceramic=doesn't damage hair, adds sheen and silkiness.) Also, the straightening attachment was a great devise to smooth out those unruly sections. The Conaire was fairly heavy in weight, but nothing too over-bearing. Despite my bad experience with this product, it did work well while is lasted. For those looking for a dryer that's comparable to the professional lines without looking to spend a fortune, the Conaire Ionic Styler is the one for you. Just make sure yours isn't defective!

Back
to top