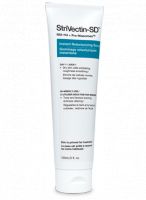 Stri Vectin Scrub

Love this scrub! I use once a week and my skin glows immediately after use!

Pass the hot stuff, hot stuff

I really enjoyed the way this product felt. The granules were tiny, therefore it was not such an abrasive scrub on my skin. I have extremely dry skin in the winter so it worked very well as an exfoliation product. A small pea size dab will do ya so the small travel size bottle I was fortunate to stumble upon in a gift set has lasted me months! The only difficulty I have is the smell. A lover of al...read morel things spicy, I find it hard to stomach this horse radishy smell. Does the smell outweigh the benefits? For once a week use and a gorgeous glow this product is highly recommended.

great exfoliant

Although pricey, it works great and lasts quite a while, as you only need a small amount. Used in conjunction with a wash cloth or exfoliant pad, your face will be completely fresh and free of all dry skin and dullness. It says for bi-weekly use, but I use it a few times a week, especially when I feel like my face has dry skin.

Back
to top