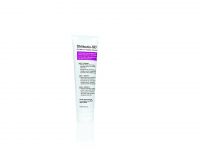 Editor's Rating & Review
This expensive cream is best known for smoothing fine lines, but we gave it a shot for what it was originally made for: stretch marks. After applying three times a day for six weeks, it did fade some of those bright squiggly lines. However, it didn't exactly provide the "significant reduction in the appearance" it promised. Plus the three-times-a-day application is annoying -- unless your idea of fun is sneaking off to the office bathroom at lunchtime with a tube of stretch-mark cream.
Reviewed by Kristen on 10/03/2007

How we review products
Was Sure It Would Work But Didn't!

For the price of $139.00 for five ounces, StriVectin-SD™ should create miracles. Emphasis on the word "should" here, as StriVectin continues to claim a huge difference in stretch marks and wrinkles when used regularly. My experience with this differs greatly. Actually, the company boasts that after the second week of use, natural collagen resurges and texture and resilience of skin improves; ...read moreby the fourth week, natural cell turnover intensifies, visibly fading discoloration; and by the eighth week, elasticity is reinforced, with wrinkles and stretch marks visibly diminished. I always thought that if I began to develop wrinkles anywhere, such on my hands as I am now, I could turn to StriVectin™ and see them disappear. NOT SO! The ingredients are complex. A key ingredient, 8 percent NIA-114, is supposed to be so powerful in promoting cell turnover that users may notice a warmth or blush when first using it and apply a cool compress if this happens. I felt nothing. This cream is not to be used by women who are breast-feeding or pregnant! Other ingredients are Peptide Actives™, which are useful in promoting collagen production and, in turn, more youthful skin. StriVectin-SD™ also contains shea butter, glycerin, hydrogenated vegetable oil, dimethicone (a form of silicone which fills in skin's creases and furrows), green bean seed extract, sodium hyaluronate (a moisture magnet which binds water to your skin), the potent antioxidant resveratrol, hydrolyzed hyaluronic acid, and fruit cell culture extract, among a very long list. I don't know how these ingredients don't result in wrinkle-free, satin-like skin, but they don't. After eight weeks of religious use (twice a day on cleansed skin), my skin was softened. Period. Tiny brown spots were not lightened at all. Wrinkles remained exactly as they had been before I began. There was no improvement in elasticity or resilience of skin. Perhaps this works for some women, as StriVectin™ thrives. For me, it did very little.

Over priced

Too expensive. It takes six or more weeks to see results. As far as wrinkles it made my face break out into hard under the skin pimples that really hurt. Not worth it

smells weird

i've used this product religiously on my stomach after my second son was born, going on 4 years now. my stretch marks were horrific, my ob said they were the worst she'd ever seen, and they looked more like i'd been in a fire than that i'd had a baby. after he was born my skin sagged terribly, and my stretch marks were still bright red. since using this cream, for YEARS now as i've said, the marks...read more are all white, and my skin is less saggy, though it never looked like i did before i had kids. im not sure the improvement wasnt just from time, and any lotion wouldn't have done the same. all in all, this cream is very expensive, thick, doesn't smell nice at all, takes too long to dry and you have to use it too many times a day. i think you'd be better off using cocoa butter or olive oil, at least they are better smelling, cheaper and have historicaly been used for the same purpose.

Back
to top