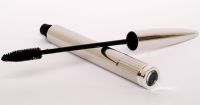 Ellis Faas Mascara
As low as
Ellis, You Made Dramatic Lashes Easy!

Ellis Faas is not a well-known cosmetic company right now, but I suspect it will become one in the next few years, if not sooner. Ellis was born and raised in the Netherlands and had a keen eye for color and composition from childhood. In 1999, her relatively "quiet" life came to an end when a photographer for Vogue Magazine visited Amsterdam and needed a makeup artist. He chose her. Soon she ...read morecame to meet Karl Lagerfeld and managed a small army of makeup artists for fashion shows, photo shoots, and advertisements. After working with Clinique, Lancome, and MAC, she was asked to create a makeup line to accompany L'Oreal's "Biotherm" skin care products. When she completed this task, she launched her own line. And what a line it is! Eye shadows range from creamy basics to "light" shades, with very unique hues and holographic finishes. Lipsticks are available in three finishes and many colors: Creamy, milky, and glazed. Her mascara is no less unusual than the other products. It comes in a lengthy silver tube with an extended wand and a full, plush brush (it resembles a rocket to me and retails for about $34.00). The formula is extraordinary. It is glossy, thick and quite soft, so that you can build coverage with absolutely no clumping or flaking. I've been able to add three layers easily and lashes remained pliable, not "crunchy." Creating tons of volume with Ellis Faas mascara is easy because of its ability to layer! The brush separates well, defining each lash, even hard-to-catch corner and bottom ones. I never apply mascara without first using my Shu Uemura curler, and it holds the curl extraordinarily well. It doesn't lengthen ridiculously, but with all of the volume, you will be sure to capture attention with your lashes. This gem is available in true black and brown, for drama or a softer look if you desire. I love this mascara; I have some of the shadows and lip colors and am intent on purchasing their new "Skin Veil," a mix between a tinted formula and a foundation intended to make you glow.

Disapointed

I was so excited to try this new mascara the brush was small and easy to use the formula had a rich color, but within a week it started CLUMPING! I was so sad I had better experiances with mascara a fraction of the price. Maybe I got a bad batch?

Back
to top