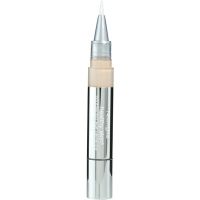 Overpriced but works!

If you are not on a budget, this is not a bad drugstore concealer. It was $11.99. I read about this product in an article and I really liked the idea of the pigments and the SPF 20 in an eye concealer. I don't think the package is so frustrating as some say. I would prefer it to not have a brush applicator, but it isn't so bad. The colors are a little off though. There is Fair, and then Light and ...read moreBuff which almost look identical. I think it is a great option for those 30+ as the light pigments will deflect from the puffiness or lines that may be in that area. It also did not cause me a rash as one other reviewer stated, which is surprising to me for Neutrogena. All in all, not bad but I will probably look for the same type of concealer with the pigments in a more affordable brand.

Not too crazy about the spf...

I love this stuff it really brightens and tightens the skin around the eye but the spf makes it so you cant be matte all day.

Ok

I am not a huge fan of this product, might just be that the color I got was a little to light but it doesn't quite blend in enough, and doesn't work the way it should. I also do not like the dispenser, it took forever to get the product out and it is difficult once you do that to get the right amount out each time I use it. Which makes the container messy....which is frustrating.

Back
to top