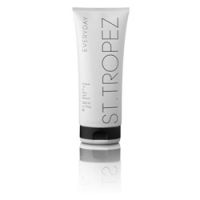 Gives you a great dark bronze

This stuff freaked me out when I first squirted it out into my hands. Its REALLY dark. It says not to rub but in which weirded me out to. I just tried to glide it on my skin quickly without rubbing it in which I worried would leave me looking really blotchy and horrible. My hands were dark immediately and it didn't wash right off so I had dark hands the rest of the day. The next day my hands looke...read mored normal again and the rest of my body looked WOW! I had a really nice dark, bronze. To my delight there was only one small blotchy spot on my side.

Great smell, mediocre color

I absolutely adore the St. Tropez Self Tan Bronzing Mousse, so I purchased this product as well. The results of this lotion are much more subtle than the mousse, it gives you a very light golden bronze color in about a week of daily use. After using the other St. Tropez mousse product and getting instant gratification (a dark tan within a couple of hours), this product was sort of a let down for m...read moree. I use this mostly for maintenance of the tan I get from the mousse but alone, the resulting color isn't really dark enough for my skin tone. However, this is still a good product. It's a white nice smelling lotion that goes on streak free and best of all has ZERO self tanner smell. With other self tanners (ahem, Jergens) I was always stuck wearing it before I went to bed instead of during the day because nothing is worse than smelling like rotting fruits/self tanner at work. I would say that is probably the biggest pro. It is a little pricey for everyday use though, so I probably won't be purchasing again.

Best gradual tan

I use a lot of the St Tropez range when I want a tanned look. A lot of gradual tans in the cheaper ranges can look quite yellow but the St Tropez end result is golden and very true to the natural tan colour I get from the sun. I think this is the reason I love this brand so much and don't bother with any other tan ranges now. It is a natural health tanned look and is definitely the best!

Back
to top