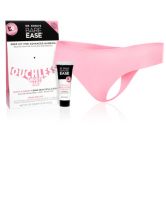 BareEase Prep Kit
As low as
wish it was a larger tube for the price

BareEase & Cream is a bikini wax prep-kit created by a Beverly Hills anesthesiologist that contains a 4% lidocaine topical cream to help de-sensitize the area and relieve some of our pain-anticipating anxiety. BareEase requires some strategic planning since you'll need to apply it about 30 minutes prior to your appointment, but can start numbing in as little as 15 minutes and reach itâ€...read more™s peak in about 45. While I know the product wasn't created for this–I also used some prior to a threading appointment on my upper lip, where it helped curb some of the involuntary nose-twitching and tears that escape from my eyes I usually experience, which was a very welcome relief. (It might be tempting to use near the eyes, but please don't!) You may find the tube a little small at 0.3 oz for $24.99, but for those of us who don't go by the motto "pain is beauty", it could be a price you're willing to pay.

not worth the money

this product is a nice idea. however, with the extremely high cost, it basically doubles the cost of a wax, which is not sustainable for most women. also, it works quite well for braxilians but does very little for regular bikini waxes (which are the most common types of waxes among women) because the panty doesn't numb the thighs.

Back
to top