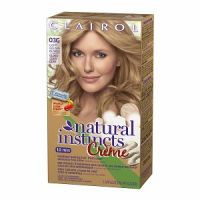 I love it

There are not a whole lot of non-permanent, non damaging hair dyes out there right now. It is a great non-permanent hair color. Why? For many, many reasons! First of all, it is super affordable, costing only seven dollars at any supermarket or drugstore, completely within my college student budget. So that is a very good thing for me. Another thing, the color is vibrant and shiny. It does not have...read more that awful ammonia smell that some permanent dyes do have. This one is so gentle on the hair and scalp. After washing, the hair is soft and manageable. I love it. The color lasts a few weeks at most, but if you wash your hair every other day or two days like I do, then it lasts a little longer. So bottom line: affordable, full coverage, with tons of different shades to choose from and gentle, you really can not get any better than that. Totally awesome product by Clairol. This is also great for playing around, if you are too scared to try a permanent hair dye or of you're unsure of the color you're gonna get. That way, if you mess up, it won't be permanent, it will only be bad for a few days at most. I love it, and it is a personal favorite of mine.

Disappointing, did not cover all grays but good color

I just colored my hair last night with this dye, and I am very disappointed. I figured with a color creme, there would be less dripping and nope, still dripped. It smelled okay, but it did not cover all my gray, and I don't even have a lot to cover. I left it on for 15 minutes, 5 minutes more than the time the box said. It took forever to wash out of my hair and it was dry and stripped bare as...read more wood before I put on the included conditioner. The resulting color was nice, though, an auburny, reddish tint. My hair was very shiny too. And it did come with the nicer gloves than the crappy plastic baggy-type ones. The conditioner, like a lot of times with home color, is great but you can't buy it separately in the store. They give you enough for 5 weekly treatments, and it's very smoothing and hydrating. I probably won't buy this again, though. I think I will try the John Frieda haircolor next since I hear that is much better to cover grays with.

Left gray roots very brassy

Doesn't work well for greys.