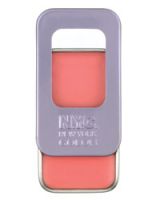 Sugar Kiss

I tried Sugar Kiss, which is a light pale pink color. I know everyone thinks you can't buy them any more, but they are still in stock at my dollar tree! Any way, I bought this in hopes of a similar texture to my MAC Tinted Lip Conditioner- but it is not like that at all. MAC has a really creamy texture while NYC has more of a gel texture. That aside, I do like this product! It is a little stick...read morey, but for $1 I really have no reason to complain. The color selection is okay and I think they are all sheer. Sugar Kiss offers a shiny glossy glaze over my lips, with just a hint of color. The packaging is adorable, and opens easily. Plus, the colors is labeled on the back, and the tin has a lot of product in it. Overall, good product.

great product for the price

I really liked these, you can still buy them online at some specialty stores. They smelled nice and had great texture. :( sad

Great Stuff

I loved these things, sad they're discontinued. They smell good, look good, feel good, etc. They give a little color to your lips but it's still sheer, and it does feel pretty moisturizing.

Back
to top