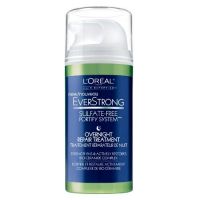 Like a "Night Cream" for Your Hair

I have liked this from my first use and it just keeps getting better and better with each additional use. I have very long, very curly hair that is fine in texture but I have a lot of it. Being that its long, although I don't heat style, I am prone to split ends and some breakage. This product has been a Godsend! Every night I apply it to dry hair, twist it into a "scrunchy" and sleep with it ...read morein. I wake up to volumized hair, without frizz and sealed ends. My hair is so soft and silky and never weighed down. The product does soak in quickly, with no residue on the pillow, and just works well. I think of it as part of my night time beauty routine- like a "night cream" for your hair. I also apply it to wet hair, after I wash it, as a leave in. For me, I like the scent too. This is definitely a 10 star product for me and I hope they never discontinue!

My favorite leave-in

This product is amazing. I started using this with the rest of L'Oreal's sulfate-free system & this has really help keep my hair from drying out & I hardly have any breakage now that I use this. It's super light-weight, it feels like there's nothing in your hair at all. It also really seems to have tamed the frizz I get from my bed-head meaning that I don't really heat style anymore & have less damage. It's definitely worth buying.

LOVE

I actually really love this. I'm addicted. I put it in my hair each night and it makes my hair feel so soft. Plus the smell is great.. addicting.

Back
to top