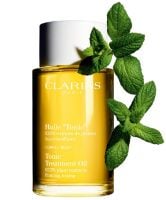 Nice body oil

I recently got this to use in the winter as a kind of special treat/pampering product. Overall, I am a bit disappointed, but it is still a pretty nice product. The smell is not my favorite. But it doesn't smell bad at all either. Just takes some getting used to. I really liked that you needed very little product to spread on your whole body. It honestly has lasted me so much longer than I antici...read morepated. Overall, this oil feels nice on your skin. It doesn't leave you feeling sticky or oily at all once rubbed in, which was a big plus. However, I was using this product every day in place of lotion, and I started noticing my feet and elbows getting a bit dry, so I don't think its actually all that hydrating. Overall, this is really nice as an occasional pampering oil, however not quite as moisturizing as I would have hoped. For that reason, I don't think I would purchase it again, especially for the price, but it is not bad.

HORRIBLE!

i'm glad other reviewers had good experiences, but i used this every single day when i was pregnant.. i ended up buying 3 bottles throughout my pregnancy. the smell was very eucalyptus and strong- and you know how u feel sick when you are pregnant- it made me throw up every time i used it, but i did it anyway because i was so scared to get stretch marks. guess what? i have the worst stretch marks ...read moreof anyone i have ever seen. it looks like my stomach was attacked by tiger claws or shark teeth. seriously. when i look at my stomach to want to cry!!! dont waste your money!!!

product

it is use for special treat/pampering product.

Back
to top