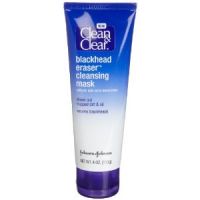 Clean & Clear Blackhead Eraser Cleansing Mask
As low as
Does the job!

It's not a miracle mask, but it does work well for loosening up blackheads and drying out pimples! I particularly like this mask because you can use it as an overnight treatment on very oily areas or for spot treating. After I steam my face or soak it with hot water (to open up the pores a bit), I put the mask on my entire face while avoiding the dryer areas. It brings all of the gunk in my skin u...read morep to the surface so that I can just use a scrub to get the rest out! I can actually see it drying out a nasty pustule which is pretty cool. My only beef with this mask is that it can be really drying, so it's best used on just oily spots or occasionally.

Really does remove blackheads over time!

I have very oily skin and thought I was doomed to have blackheads on my nose forever. But when I ran out of spot treatment, I started using this as my overnight spot treatment, including all over my nose for about four nights. I did a double-take in the mirror one day because my nose was almost clear! It really improved the look of my face overall because the blackheads were gone but did not do mu...read morech for my other spots. As an occasional mask this is ok, but if you use it consistently you get great results!

Back
to top