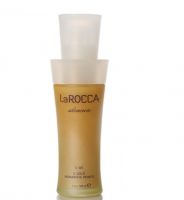 Feels and Makes You Look Like Pure Gold!

The arguments go on as to whether colloidal gold (24K) tones, tightens, and fades lines in skin. It is just one of the ingredients in LaRocca's "C-Gold Reparative Skin Primer." I simply love the idea of a primer which TREATS my skin as well as enables it to receive and wear foundation more effectively. Also present in this unique product are dimethicone (to add moisture) and Vitamin C, which is...read more an antioxidant that slows the rate of free radical damage, thus slowing the appearance of dryness, lines, and wrinkles. Vitamin E quickens the skin's ability to repair damage to tissues, including that caused by the sun. This is a delightful, oh-so-soft potion which you apply in a pea-sized amount after cleansing over face and neck. More than that amount is wasted. It glides over your complexion and neck like liquid satin, creating a feel which I can't seem to keep from touching or describe sufficiently! Skin is left with a coating which is non-oily but helps foundation apply most easily. There is no heavy feel as I've experienced with some other celebrated primers. My face looks better after just using this primer sans foundation. Perhaps it is the mica included, a mineral which lends a pearlescent, glowing appearance. Even my Lancôme Dual Finish Powder Foundation works well with this. Wear is extended. My skin looks more refined, dewy, and simply glows. The price is high--$75.00--but this is one of my "must-have" splurge items which does last a very long time and. Be sure to shake the bottle thoroughly to combine ingredients before application. And get ready to receive compliments . . .

A jewel in a bottle"

It is marketed as being 85% nature, 15% science and uses 24 kt gold in some of its products. The serum is amazing, I have used numerous serums from inexpensive to high end as in to my hubbie"no that purchase is for some skin care products basically insinuating I was getting 3-4 items for the cost of one product I bought. This surpasses them all, it is designed for mature skin of any type and I t...read morehink for that reason it is effective and would likely be for most people over 40, especially. It only takes a small amount and skin is really transformed in only 2-3 days a real difference in smoothness, lines evenness of skin tone and colour. I have found my o to, as well as several others from this company. I will be trying more for sure. For the 1st time in a log time I am excited to watch and feel my skin change for the better not just feel old looking. Im glowing!!!!

Love!

Love it. And a little really does go a long way! Love this brand!

Back
to top