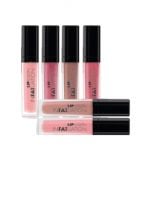 Fusion Beauty Infatuation Liquid Shine Multi-Action Lip Fattener
As low as
Juicy lips

I really love the color I bought, La Lip Jolie. It looks very natural and could be applied over top many of my lipsticks. This gloss isn't incredibly sticky which I really like. However, if you are looking for a lip plumper you may want to try a different product. I noticed little to no change in my lips. On the plus side many lip volumizing glosses can really burn/tingle and can feel unpleasant. This gloss is very mild and almost has a cooling effect.

I'm sold. The Lipgloss Junkie has a new fave.

I am a self-professed lip gloss junkie. I'm constantly searching for the "perfect" shade, texture, applicator, and wearing lip gloss. I'm very picky about my lipgloss, and I was skeptical when I first tried this sample I received in my Birch Box, but after one use, I'm a fan. I think I have a new favorite brand. First impressions. The packaging is pretty basic and unimpressive. I received a ...read moregenerous sample-size of the product in "La Lip Jolie". I'm not a huge fan of the brush applicator, as it made it a little messy to apply. At first glance, I thought the shade was going to be a bit too pink for my liking, as I prefer a more peach-tone nude shade gloss. I really liked this shade however. After application, it appears very sheer with only a hint of pink tone. It has a moist application without it being too wet or too thick or sticky, and it stay on for 3-4 hours (until I removed it. It may have lasted longer, but like I said I removed it.) I felt that it retained just the right amount of moisture, without becoming sticky and without the need to reapply the product. I did not try to eat while wearing it, but did take sips out of my water bottle. As far as the lip-plumping properties, I'm not convinced--but no more or less than any other lip "plumping" product. It does give that tingly/slight-burn-feeling that makes you "think" that it's doing something to give you more of a pout, but in reality, probably doesn't do a whole lot. Psychological or physiological, do I still "fall" for lip plumpers? Um,--yes. Because I'm so particular about lip glosses, I was very pleasantly surprised at how much I enjoyed this product.

Excellent long lasting lip gloss, not sure about the plumping aspect, however

I applied it directly after dinner last night and didn't need a reapplication for four hours, which is impressive when it comes to lipgloss and I. We just don't normally get along. It's not heavily scented, thank goodness, and it doesn't have a ridiculously sweet flavor. That being said, I could definitely taste SOMETHING, but it wasn't unpleasant at all.

Back
to top