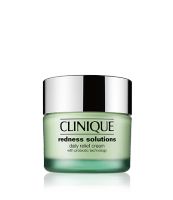 Awesome for the 3 step routine

I love this cream because it really soothes my inflammation and helps control my redness. I use it after using the Clinique toners as my third step and believe it works. It does smell a bit funny, almost like the protective base they have, which is why I rated it a nine, but it works. I love the thickness of this cream because a little goes a long way so it's an awesome value. Overall, very good cream for sensitive/red skin

Bad packaging, decent product

This product is appropriate for those with sensitive skin. It did not irritate my combination skin and felt good and moisturizing. It has a more emollient texture than I prefer, but did not feel greasy or break out my skin. It contains ingredients that are soothing and beneficial to your skin, unfortunatedly the jar packaging compromises this by exposing the antioxidants to air and promoting ba...read morecteria growth. The price is expensive considering the potency of the beneficial ingredients will break down quickly leaving you a standard, yet non-irritating moisturizer.

Not what I expected

The Clinique rep talked me into getting the three piece starter kit for their redness regimen to help with the redness I kept getting with my sensitive skin. Though it did help with the redness, I started to break out pretty badly about three days into use of this kit. The cream itself is light, but it felt rather heavy on my skin. I ended up taking back the kit after a week of use because the break outs kept multiplying.

Back
to top