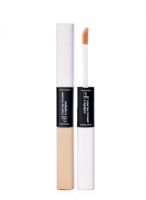 An Unbeatable Duo!

I forgot my concealer one day and ran into Target, where I picked up an ELF "Under Eye Concealer and Highlighter" ($3.00!). ELF is the master of multi-use products. The concealer had enough substance to cover well but applied and blended smoothly and easily. I used just a little highlighter on cheekbones and browbones and was pleased. Ingredients include Vitamins A and E, chamomile, green tea, ...read moreand caffeine to disguise dark circles. How can you possibly go wrong with a product like this? I still use it!

Big fan of Elf concealers.....

I love Elf concealers because they brighten up my skin so much and I always get compliments from my glowy skin and the price is unbeatable. This gives a light coverage so don't expect it to hide your acne or blemishes. I, however, agree with all the other reviewers that this product needs a better highlighter. Don't use too much or it will go on too white. Remember: less is more. Elf also suggeste...read mored that the highlighter doubles as an eye primer also but I find it lacking in that department when I layer eyeshadow on top of it. My eyeshadow doesn't appear any more intense or anything because the highlighter doesn't have that creaminess for eyeshadow to adhere to. There's shimmer in the highlighter......and not the good kind that is finely milled either so it gives your skin a dewy finish. It ends up looking more glittery than shimmery. If you want to look more like a fairy with pixie dust then I would suggest this highlighter but otherwise find a different highlighter along with this product if you like the concealer only.

Review: E.L.F. Studio Under Eye Concealer & Highlighter

Works well, needs a better highlighter!

Back
to top