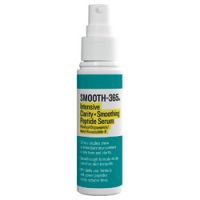 Not for sensitive skin

I bought this product due to the reviews I read here. I had seen the product elsewhere but no reviews. I followed the instructions and applied it to my face. Within seconds the skin around my nose/mouth turned bright red and flakey, while the sides of my face started flaking up a lot. I quickly washed my face and applied a cortisone product all over the areas. It took 15+hrs for the redness to...read more fade. I can use the Goodskin wrinkle cream with no problem, in fact I am on my second tube. I suggest that you test the Smooth-365 product on the inside of your elbow (I believe that is a good choice) before using the product.

Love it

Makes my skin glow. Absolute love it.

I love it

I feel this product got a bad rap from the 5 star rating because there was a mistake. The reviewer that rated it a 1 also said it was amazing, so feel she might have clicked on the wrong star. I've only used this for a few days and don't know how it will improve my skin in the long run, BUT, my skin has never felt so velvety smooth. You can tell the difference from the very first application. I use it on my face and neck and the softness lasts all day and into the nite.