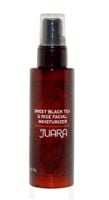 Softens and Plumps Skin!

Juara's "Sweet Black Tea and Rice Facial Moisturizer" is not inexpensive (about $50.00). I had heard a lot of positive hype about this product (and the line in general), and so I bought it online. Although it is completely non-greasy, it contains rice bran oil, which is rich in essential fatty acids and Vitamin E. Fermented sweet black tea actually plumps skin's fat cells to disguise lines and ...read morecreases. This is best for normal to dry skin, best used after cleansing and reveling in the joy of Juara's "Tamarind Tea Hydrating Toner."

helped me to get my desired shade

started using it last month and helped me to get 2 shades fairer skin.. love this product.. recommending it to my frnds as well. simply awesome!!

Great Smell, Not so Great Moisturing for Dry Skin

I LOVE the smell of this! If the scent lasted all day I would buy it just for that reason!! Unfortunatey the smell fades fairly fast so I really can't justify the cost for that lone. When it comes to moisturizing - I am not impressed and believe me I wanted to be!!! I DO have dry skin (I noticed some other reviewers have oily skin so probably a great prodouct for them). However, for my skin ...read moreit simply doesn't do it. Ultimately it is not something I can justify spending my money on though it makes me sad to say that since it does smell wonderful!!!