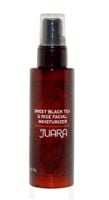 Softens and Plumps Skin!

Juara's "Sweet Black Tea and Rice Facial Moisturizer" is not inexpensive (about $50.00). I had heard a lot of positive hype about this product (and the line in general), and so I bought it online. Although it is completely non-greasy, it contains rice bran oil, which is rich in essential fatty acids and Vitamin E. Fermented sweet black tea actually plumps skin's fat cells to disguise lines and ...read morecreases. This is best for normal to dry skin, best used after cleansing and reveling in the joy of Juara's "Tamarind Tea Hydrating Toner."

Fabulous

It smooths out your skin but also soothes your face when your feeling "a little dry" or "over cleansed".

helped me to get my desired shade

started using it last month and helped me to get 2 shades fairer skin.. love this product.. recommending it to my frnds as well. simply awesome!!