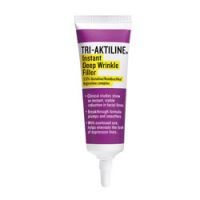 Good Skin TRI-AKTILINE Instant Deep Wrinkle Filler
As low as
Laugh lines never filled in.

My cousin took me to Kohl's when she purchased this. she used it as directed, night and day to get rid of her smiles wrinkles. She says that it hydrates, but it did not do a thing for the expression lines on her face. The rest of her face it smooth and youthful except for that one target area.

Use it and love it.

If you have ever tried this product you already love it, but if you haven't than you will. You see lines fade out instantly. If you like this also try the Total Face.

I LOVE this- it really works! Fills in wrinkles & makes them vanish!

Amazing as it sounds this really DOES fill in lines & make them disappear! I'm 50; I use it mostly on my forehead in those 2 horizontal lines, and in the 2 furrows between my eyebrows! AMAZING stuff! It took me a while to figure out how to best use it, but now that I've got the hang out of it I definitely don't want to be without it. The key is a light touch- you need very little product, and ...read more applicator tip lets you draw a fine line of product into each wrinkle crease. Gently pat the product into the crease until it fills it and the product almost disappears (it's white, but it pretty much vanishes and leaves a matt finish), and let it set before puttin on makeup. has a very faint, pleasant scent. I try to remember to use it every morning after serum/moisturizer, and when I'm just working in my office (no guests) I don't even wear makeup! It's supposed to have cumulative effects which I hope is true, but I'm Very happy w/the cosmetic results.

Back
to top