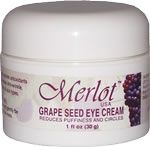 Merlot Skin Care Merlot GRAPE SEED EYE CREAM
As low as
Love it for nightime use

I've been using about a week, and so far I really, really like it - all appearance of crepiness under by 54-year-old eyes has disappeared. I do use it only at night as I think it would make my mascara smear, even though I use waterproof. I have very sensitive eyes, and this doesn't bother them at all. In fact, I have less puffiness and redness than with previous eye creams. It takes so very li...read morettle that with me using only at night, that nice sized jar will last a long, long time, so it's an excellent value.

love this product

I used this product years ago then had to give it up when i moved out of state and the new place i settled in did not carry this product. found it again and i absolutely love it. if you use it for about six weeks you will notice smother skin around the eyes .all the Merlot products do what they say. i love this product and will never go without it again.

Merlot grape seed eye cream

While at Walgreens, Merlot grape seed eye cream was recommended by a sales person in the cosmetic dept. I tried it for about 4 weeks and each time I used it, I noticed a stinging - and later swelling above and under my eyes. I've never had a problem with any makeup or creams in my life. I stopped using it and all improved. I advised the company and they said, the product is non-allergenic, but I ...read moremust be allergic to one of the (1000 chemnical names) ingredients, and ended with good luck. I would never recommend this product, and plan to advise sales people in the cosmetic depts of stores not to recommend it either.

Back
to top