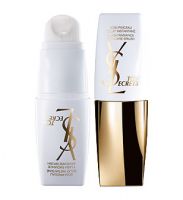 I don't understand...

What is the point of this stuff? I have tried it many times (since I paid a lot for it) and do not see any benefit. I've read lots to make sure I was using it correctly. It's one of those products I was "sold" at the counter. Really, for me, a waste...

not for me

every time i use it i break out :(

Soft Healthy Glow

Although I have a very good complexion and healthy skin, I am 60 and need a bit of extra help smoothing out the texture and tone of my skin. This not only does that beautifully, but it also imparts a soft glow which is an absolute must for women of any age who want to look vibrant without looking shiny. The primer is weightless and comfortable to wear unlike some primers that make you feel like ...read moreyou're wearing a mask. Make up glides on and stays put (I use YSL Perfect Touch Foundation) throughout the day or evening. An extra bonus is that the primer is loaded with skin loving ingredients. I've tried other primers, but this one gave the best finish. On low maintenance days, I use just the primer with a light dusting of Guerlain's Meteorites and my skin looks flawless.

Back
to top