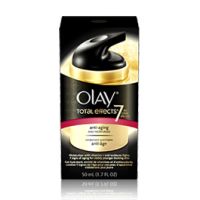 Hurray for Olay!

Olay products just keep getting better. I am still amazed at how far they've come, from a gentle pink fluid in a simple, black-and-white box to a treasure trove of products for nearly every condition possible! I've been using this on and off for awhile and love it (I stray because I tend to be fickle and try other brands). This particular product claims to deal with seven specific issues: 1) D...read moreiminishes the appearance of fine lines and wrinkles; 2) Smoothes skin's texture--visibly and to the touch; 3) Improves surface dullness, giving a radiant glow; 4) Evens skin's tone to make it look younger; 5) Minimize the appearance of pores; 6) Visibly reduce blotches and age spots; and 7) Soothe dry skin, hydrating with Olay moisture. A look at the ingredients shows why it does work; it contains glycerin, dimethicone (a humectant), salicylic acid (works to rid skin of dead, dry cells), squalane (a lipid for moisture), and titanium dioxide, which slightly brightens and whitens your complexion. I love this product. The pump metes out just a small amount without contaminating the rest of the product. It's great for all types of skin, from oily to very dry. It is lightweight, never leaves a heavy residue, and truly hydrates and rids skin of fine furrows. I did notice a softer, more radiant look to my face (and neck--don't forget your neck and décolletage here). It does indeed feel better. Skin has improved clarity. There are a few brown spots on one cheek which weren't changed for the better by this cream, but most creams do not work as they say they will on uneven pigmentation. I like the fact that it absorbs easily. I wait very briefly and can apply my Lancôme powder foundation with ease! All in all, it's a winner! An SPF factor would make it better, but for the price you pay, you do get more than your money's worth!

Another Olay Great!

This product is excellent. It works as promised and is truly fragrance free. It is lighter than the SPF version of the product, so for those of you who have tried the SPF and found it too heavy, give this a try.

Totally Unimpressed

My personal experience with Olay tends to be hit or miss; this one is a "miss." I have been using it for about 6-8 weeks now and have not noticed a thing. No change in tone, pores, pore size, clarity, evenness; nothing. I am 33 with oily skin in the summer and oily/combo in the fall/winter. I have larger pores and some blackheads in the nose/chin area, and my skin tends to be somewhat acne prone. ...read moreI also have a little bit of unevenness. The moisturizer is okay; the price is nice if you have a coupon. I thought there was not enough product in the bottle to be worth paying for it without a coupon. I will still continue to try Olay products here and there; some of them work really well. However, it is always disappointing when you try a product that has such great reviews and it doesn't seem to work nearly as well as it does with everyone else. I will continue to use it until the bottle is done, but will be looking for another anti-aging moisturizer, possibly another drugstore brand, maybe even Olay! We shall see. :) As far as this girl goes, I will not be purchasing again in the future. Oh, ONE plus. It does tend to hold moisture well on the skin's surface. A great for girls with dryer skin!

Back
to top