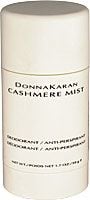 smells great, works even better

Why do I ADORE the deodorant so much but can take or leave the perfume? I have a coworker who loves the perfume on me, but what really blows my mind is the deodorant. They actually don't smell like the same scent to me! Not only is the deo crazy effective, but it makes people want to actually ON PURPOSE smell your armpits! I try to go natural on the pits when I can, but sometimes I know I'll need ...read moremore and this is perfect. Going out to boogie the night away? Got a hot date? This stuff rocks. And the deo lasts a year and a day! Inspired by the soft, sensual feeling of cashmere against bare skin. Cashmere Mist is a fragrance light enough to wear all over your body, all year long. It seduces the senses - skin, scent, and spirit. Notes, Lily of the Valley, Suede Notes, Bergamot, Ylang, Jasmine Maroc, Sandlewood, Orris. Amber, Vanilla, Cedarwood, Patchouli, Musk. Style: Sensual. Intimate. Soft.

Smells Bad

The smell is so heavy and horrible. I tried it b/c I read great reviews & thought I'd switch up scents from my usual Ralph Lauren "Romance" deodarant. Fortunately, I bought it from ULTA so it was an easy return (didn't have to ship it back.) The saleslady agreed. I love Ralph Lauren. The scent is so light and fresh. Only when someone is close enough to hug might hey maybe pick up on it. Been told...read more I smell so good! I have extreme hormonal imbalances with odor & perspiration problems. This helps so much & no stain issues. I think it's LESS expensive than cheap brands as it last so long.

The Smell is Gross

When I wear this, all I can smell is the deodorant. I hate the scent of it as well, which bothers me even more. Don't suggest this. Also very expensive...

Back
to top