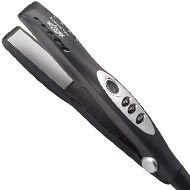 Good product

This product works well and without damaging hair, provided you follow the instructions. There are a few things you should consider when using it that aren't in the product information. When the hair steams (hence why there are vents) it is hot. I burned myself on the steam several times. But a pair of heat resistant gloves and use them. Do not use this with product in your hair. It will gunk up t...read morehe steam vents which are incredibly difficult to use. Finally, no matter what the product or others may say, do not use on soaking wet hair. Let your hair air dry or hit it with a blow-dryer for a couple of minutes. Otherwise, it will take forever and you run the risk of damaging your hair.

good for wet, bad for dry

this works awesom eon drying hair, it leaves it straight and wicked shiney. bad on hair that is already dry. it left my hair frizzy, dry as hay, and no shine after. not to mention my hair was getting stuck in the holes where the steam escapes.

good for dry, bad for wet

It works like any other straightener for dry hair, but when I tried wet to dry, it turns out really frizzy and dull. Also the thing isn't flat on the bottom, so when you set it on a counter, it falls to the side.