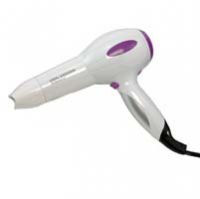 Vidal Sassoon Answers 1875W Direct Ion Ceramic Disc Dryer for Coarse Hair
As low as
not bad

its worth the price you pay for it. i have no complains.

Good Dryer For The Money

The dryer I bought is the same as this one but looks slightly different. It's the Vidal Sassoon "Solutions" line and I got the one to "smooth" coarse, thick hair. It's 1875W with Direct Ion Ceramic Disc. I bought it at Shopper's Drug Mart in Canada for $39.99. I'd been using a 17 year old Conair on my short, very thick, wavy/frizzy coarse hair. It was taking me over half an hour to dry my hair and...read more even then it was always a big frizz ball. My fat iron was working double duty. I've learned over the years that cheap drug store brands don't do the job as well as professional but I didn't have the cash to shell out on a professional dryer so thought I'd give it a shot. This dryer looks pretty cheap but works great! It took me just over 5 minutes to dry my hair (it's short and has been thinned out considerably) on the warm setting with air flow setting to low. My hair was a LOT less frizzy, still not as smooth as when my stylist does it but for $40 I'm not complaining. My flat iron didn't have to work as hard that's for sure! The dyer is fairly light and on the low setting was pretty quiet, I haven't tried high setting yet. This dryer has 2 heat settings (hot and warm), two air flow settings (high and low), a cool shot button, a "turbo" button, and a button to turn ions on or off (although not sure why you'd want off). The heat and air flow buttons are on the back of the handle and I managed to accidentally hit them a couple of times changing the settings. Apparently the back comes off for easy cleaning although I fiddled with it for a minute and couldn't get it off. The "instructions" basically are just the product warnings and nothing else. If you're looking for a well priced dryer that does a good job I'd recommend this line.

Works ok

I was used to professional tools, having been a cosmetologist/salon owner for several years, but when I had to replace my personal hair dryer, I opted for this one. I like that the back comes off in order to clean the "vents" and this is an ion dryer, which is slighter more healthy for the hair and cuts the crying time down. I haven't noticed any huge difference in my hair, but this is a pretty good, inexpensive option to the professional tools.

Back
to top