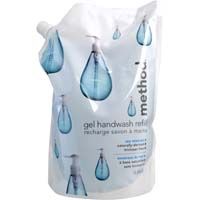 Method Hand Wash Refill
As low as
What's not to like?

Method is a fantastic brand. Their products are effective without being unreasonably expensive. And it's so cost effective to be able to buy a pump bottle once, then buy a nice big refill so you don't have to pay for that packaging over and over. (You also don't have to THROW AWAY that packaging over and over.) It irritates me sometimes that my local stores don't carry as many scents as refills t...read morehat they have in the pump bottles, but that's not Method's fault. Definitely a great product.

Big sweet water refill

I like the hand wash so much that I bought the big refill. Method is a great brand, I will buy again!

Back
to top