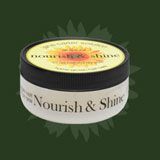 The Jane Carter Solution Nourish & Shine
As low as
eh

So I bought this product because recently I've started to have a lot of breakage in my hair. My scalp feels really dry as does my hair and my curls. This product looked promising to nourish my curls and create the luster that I lost through heat processes and styling. Not so much. A lot of the reviews I've read online promote this product to mixed girls or african american girl's hair. I'm white a...read morend this product tangled and over-greased my hair. After I am done using this product, there is an untamed, and frizzy appearance to my hair. The reason I gave it a 50 percent is because it really is a good, natural product for skin. I would encourage everyone to try it out, it's on the pricier side but if it doesn't do well for your hair, more than likely it will strengthen your cuticles or nourish dry skin you may have.

Fantastic for cuticles!

I use this daily as a moisturizer for my cuticles and it works great! I keep a little pot by my computer and I just rub it in whenever I think of it. It's helped my dry cuticles tremendously. I use to get hangnails all the time, but not so much anymore. I don't really use this product on my hair, however. But I can see how it would work on super dry ends. The only thing that bugs me is the scent--I'm not a big fan of it.

Back
to top