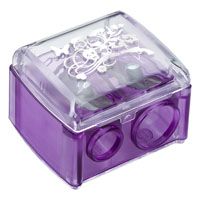 Works Seamlessly

This handy sharpener for two sizes of pencils is worth the bit extra you may have to pay. It leaves a sharp, accurate point and no mess behind. All sharpeners are not created equal, and this one excels!

Grindhouse shrpener

This is the best. One hole for each size. Really sharpens to a point and catches the shavings.

Review: Urban Decay Grindhouse Sharpener

Amazing. This sharpens all of my 24/7 Glide On eye pencils, my smashbox liners, my prestige liners-you name it. This works wonders!

Back
to top