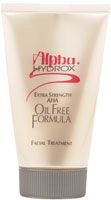 good facial cream

I gave this a seven because it does sting for a couple of minutes after applying. I have sensitive skin and other than the initial sting I have had no bad side effects. It goes on smooth, no heavy fragrance. I have noticed my skin doesn't break out as much and is slowly looking brighter. It is hard to find, I've seen it online thru the company, Ulta and Walgreens websites.

Neoteric Cosmetics Alpha Hydrox Aha Facial Treatment - AHA-choholic

I squeezed the last few drops of this product about two days ago. I now have a q-tip inserted in the tube that I'm using to get every last drop of this wonderfully addicting product. I live in Hawaii and apparently there is something in the oil-free formula that doesn't allow it to be shipped by air. So thanks to my acute sense of procrastination and the all-inclusive USPS shippping regulations, i...read moret will take about 14-21 business days for my new tube to arrive! Am seriously considering stockpiling and starting my own black market dealing in Neoteric products. . . I take great pride in finding "diamonds in the lava" or what some call "cheap unknown stuff that really works better than the expensive stuff everyone else is using." I am known as a "bargain hunter" by my friends, a "junkyard junkie" by my acquaintances, or merely "that one with all the cheap-o stuff" by those who love me not. Whatever they call me, all have commented on my complexion since I started using Alpha Hydrox Oil-Free Facial Treatment. I have very dark skin for an asian which I have subjected to many years of exposure to the harsh elements of Hawaii's climate (read: years of bare-faced baking in the hot Hawaiian sun). Honestly, I only started using sunblock last year. But after just one tube of Alpha Hydrox, the wrinkles on my forehead and laughlines around my eyes have decreased dramatically, my pores are clear and their size has decreased accordingly, the brown patches on my chest and sides of my face have faded dramatically. I have received so many comments about how good i look (even without foundation!) that I now realize how sh*tty I must have looked before. Of course no one believes me when I tell them what I've been using (because it is virtually non-existent in Hawaii's retail market) and I have only shown the actual tube to two of my closest friends. And I only showed them the tube; I wouldn't lt them try it. But once I get my new stash, I'll show it to everyone. Of course I won't let anyone try it. But, I will "happen" to have an extra tube and "might" be willing to let it go for a price. . . Hmmm, I wonder where I can get a trenchcoat in Hawaii? LOL!

HIDDEN BEAUTY SECRET

THIS PRODUCT IS THE SECRET TO CONSISTENTLY GREAT LOOKING SKIN. I HAVE BEEN A FAITHFUL USER FOR OVER 20 YEARS. I AM IN MY 50'S AND BECAUSE OF THIS PRODUCT MY SKIN LOOKS LIKE THE SKIN OF A THIRTYSOMETHING! IT IS EASY TO USE ON A DAILY BASIS AND GIVES YOUR SKIN A NATURAL GLOW SIMILAR TO WHAT YOU GET WITH MUCH MORE EXPENSIVE PRODUCTS. THIS WILL TRULY GIVE YOU MAKE-UP OPTIONAL SKIN WITHOUT THE EXPENSIVE PRICE TAG.

Back
to top