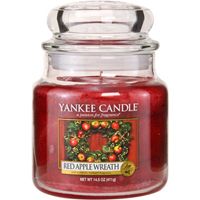 Cozy

I like this scent a lot. It is cozy and comforting, and always makes a room seem warmer and more welcoming. It is not overpowering and the candles are long burning.

Cozy!

This candle is perfect for the holidays. It has the balsam and pine undertones of a wreath but the fresh crispness of an apple. The two really balance themselves out nicely. For this reason, I find it evokes the feeling of the holidays but is not too holiday themed to be used exclusively during the season. I find myself lighting this candle year round, especially on rainy nights when I want someth...read moreing cozy. The candle has a slightly sweet undertone, but it is balanced out by the woody pine scent. Overall, a perfect balance. It is also a fun scent to mix with cinnamon based scents to really evoke the spirit of the season. The Yankee Candle company is hands down my favorite candle brand. Their products burn like perfection and the scents burn true. Their candles and wicks contain no lead and burn very cleanly. They also have a great line of candle accessories to complete the feel.

Long-lasting scent

It smells so much like fresh baked apple pie! I received this 22 oz jar candle as a Christmas gift. The first time I used was the strongest, but not the stinky and artificial kind. I could smell a hint of cinnamon too. This stuff made me hungry! The scent seemed to weaken only a little bit toward the end of the jar, and my family enjoyed it for many weeks. Yankee Candles are a bit more expensive than most, but if you want to give someone a jar of candle, this is a good choice.

Back
to top