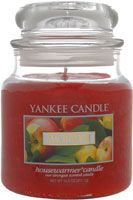 We are Yankee Devotees!

My husband and I like to light candles. We generally have candles burning everywhere, even during the day. We like the subtle glow and scents. Our grown nephew--a Yankee Candle fanatic--purchased "A Midsummer's Night®" for us. It is a heady, intoxicating fragrance, an incredible blend of musk, patchouli, sage, and mahogany. The price, $24.99 for a medium-sized candle, may seem a bit stiff, b...read moreut it gives sixty-five to ninety hours of delight. We sit and sip a glass of wine around it in the winter; in the summer, it travels to our deck as we sit at the stars and stare. Yankee has fragrances which cannot be replicated by any other firm--they are superb!

The Best

Yankee Candles are by far the best candles for your money. If you purchase candles for the scent, you cannot go wrong with Yankee. The Macintosh candle smells just like the real thing and the burn time is amazing.

Truth in advertising

This candle smells like apples, plain and simple. This is a really great example of truth in advertising. When I smelled the wax, it smelled a little flat to me and maybe a bit too sweet for a macintosh apple. However, the candle burns so much better! It is a little sweet and a little tart. It really smells like you walked into a fresh apple orchard and were going to pick your own apples. It doesn...read more't get too heavy when it burns and doesn't smell too sweet either. This is one of the Yankee Candle Company's oldest scents and I can see why it is a classic. Yankee Candle has produced yet another lovely candle that really evokes the name and label. I also love that that candle is colored the perfect apple red. This would be a really cute gift to give to a teacher, especially if you really played off the apple theme.

Back
to top