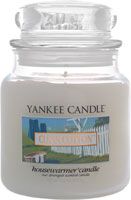 Yankee Candle Company Clean Cotton Housewarmer Jar Candle
As low as
Nice

Smell reminds me of laundry detergent. Nice

A bit overpowering

I cannot say enough positive things about this brand. Yankee Candles are made in America, burn better than any other candle on the market, come in an incredible variety of scents, and are widely available. They are very well priced for the amount of burn time you get out of each candle and are by far my favorite candle company. That being said, I don't particularly care for this scent. I find it...read more incredibly overwhelming and a bit chemical smelling. It smells like Downey fabric softener on steroids but a lot harsher in scent. At first, it burns very clean but at some point it becomes so strong that it gives me an incredible headache. I would expect the scent to be rather light and breezy given the inspiration, but it comes off as very very heavy. This might be a good alternative for those who like very strong scents but don't care for florals.

Clean

Clean cotton is one my favorite Yankee candles. This candle has a nice clean scent. The smell is light, not overpowering. The aroma will leave your house smelling like a fresh spring day. If you are not into strong scented candles, this is one to get.

Back
to top